DISNEYLAND® PARK
In a Magical Kingdom not so far away – somewhere between a place where you wish upon a star and dreams come true – classic Disney heroes and heroines live happily ever after, once upon a time.
Explore five themed Lands where fantasy and fairy tales come to life before your very eyes!
Frontierland
Mosey through the legends of the Wild West. Cruise on a paddle steamboat and ride a runway mine train on Big Thunder Mountain. Young folk can also explore the Pocahontas Indian Village whilst sharp-shooters can test their aim in the Rustler Roundup Shootin' Gallery.
And dare you brave a visit to Phantom Manor? Unravel the mystery of the jilted bride who waited in vain for her groom. Beware of the ghoulish ghosts and spooks who are sure to join you in the haunted mansion.
Adventureland
Adventureland brings you a whole new world of excitement and thrills as your rub shoulders with pirates on the high seas, visit the enchanted city of Agrabah and take to the trees with the Swiss Family Robinson.
On Indiana Jones™ and The Temple of Peril, prepare yourself for a whip-cracking adventure as you enter the Temple and find yourself in a runaway wagon speeding through the ancient ruins. Or set sail on a swashbuckling cruise into villainous territory on Pirates of the Caribbean.
Discoveryland
Explore a place where future predictions of great visionaries come to life. Enlist in the Rebel Alliance on Star Wars Hyperspace Mountain or help Buzz Lightyear battle the Evil Zurg on Buzz Lightyear Laser Blast®!
Take a thrilling virtual reality ride to a galaxy far, far away on Star Tours: The Adventures Continue. Fasten your seatbelts, it's going to be a bumpy ride!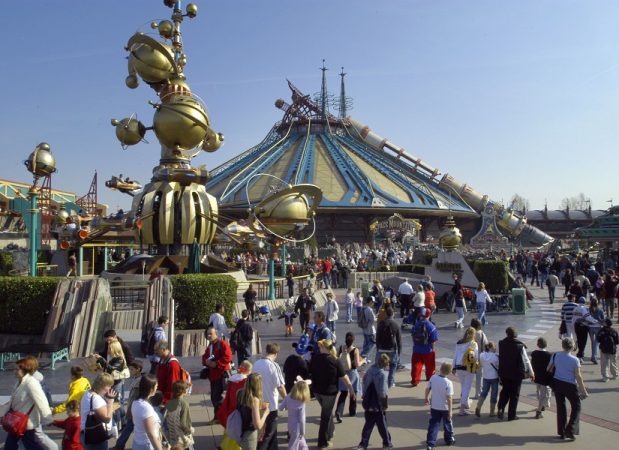 Fantasyland
Fantasyland is the happiest of places, where fairy tales and stories come vividly and magically to life. Discover and explore the charm of the timeless Sleeping Beauty Castle situated in the heart of Disneyland® Park. It's the perfect place to re-awaken your childhood dreams.
Fly with Peter Pan and Wendy through the London sky to Never Land, spin yourself dizzy on the Mad Hatter's Tea Cups and soar as high as you can around the park with your favourite elephant, Dumbo. The fun and magic never ends over in Fantasyland.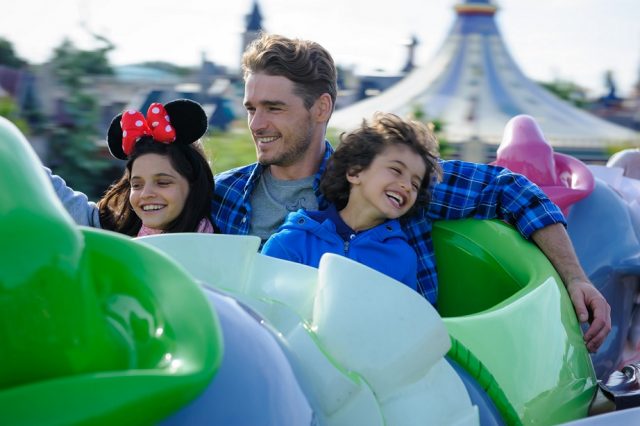 Main Street, U.S.A®
Enjoy the boundless charm and hospitality of a small town during the 1900's. Stroll past Victorian stores, take a horse-drawn street car and cool off at the Gibson Girl Ice Cream Parlour. Just like the good old days.
Or if you need to give those legs a rest, explore Disneyland® Park via railway on the Disneyland Railroad. All aboard for magic and surprise that will astound you. The Railroad will transport you all around the lands, taking you to your next adventure.
---
WALT DISNEY STUDIOS® PARK
Right next door to Disneyland® Park, discover the magical world of cinema and television through 4 magical lots and the Toy Story Playland, featuring thrilling attractions and spectacular shows where your dreams take centre-stage.
Front Lot
You're on-set at Disney Studio 1 for the shooting of a motion picture production. Props, sets and famous faces surround  you – it's your moment to shine!
Take a tour of Tinsel Town with a difference, you're the star. From the glitzy '20s to the swining '60s, there's a production in progress full of one memorable scene after another.
Production Courtyard
Filming, studio life, costumes, films – get wise to the secrets of the TV and cinema world.
Experience the magic of the movies in the thrilling CinéMagique before checking in to the infamous Hollywood Tower Hotel in The Twilight Zone Tower of Terror™*. Have your wits about you and watch your step as you enter the lift and plunge 13 unlucky floors into the Twilight Zone.
*Inspired by the Twilight Zone®, a registered trademark of CBS, inc. All rights reserved.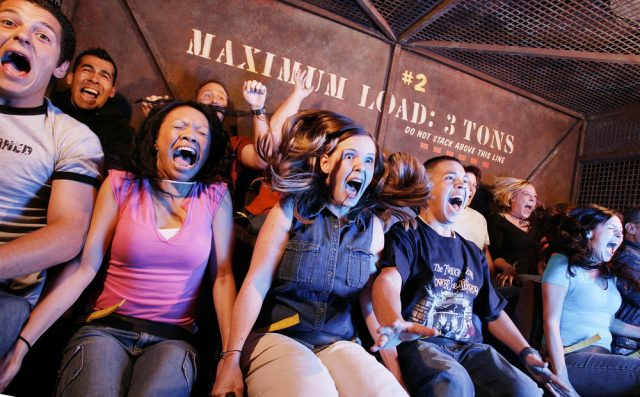 Toon Studio
The history and secrets of Disney animation are revealed as you marvel at the work of the master animators who gave us Disney's most famous Characters.
Shrink down to the size of a rat as Remy and his friends cook up in a storm in Ratatouille: The Adventure – a 4D thrill for all the senses and definitely not to be missed. Then join Crush and friends on Crush's Coaster® where you'll want to hold on tight as your turtle shell dips and dives through the East Australian Current.
Backlot
Be amazed by the most incredible car stunts plus some hair-raising special effects in Moteurs…Action! Stunt Show Spectacular featuring everyone's favourite car Lightning McQueen.
Join the crew of Armageddon as a meteorite shower strikes the space station before getting ready to rock out in a music video over at Rock 'n' Roller Coaster starring Aerosmith. Here you'll feel the pulse of 62mph rock 'n' roll where heart-stopping drops and loops await you. The thrills never stop over at the Backlot.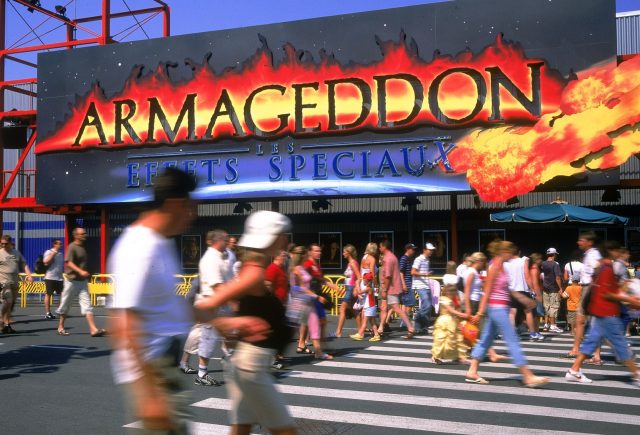 Toy Story Playland
Join Buzz, Woody and the gang at Toy Story Playland as the toys come to life in Andy's backyard. Clamber on to the back of Slinky Dog as he embarks on some loopy laps trying to catch his own tail in Slinky Dog Zigzag Spin**, and enlist in the little green regiment for a thrilling parachute drop behind enemy lines in Toy Soldiers Parachute Drop.
Adults and children of all sizes will enjoy exploring this fun-filled oversized world, inspired by the Disney●Pixar Toy Story films.
**Slinky® Dog is a registered trademark of poof-slinky, Inc. All rights reserved.
©Disney●Pixar
Disney Village® is a shopper's paradise that is open until late meaning you can shop until you drop for some magical gifts to take back home.
Don't miss the massive World of Disney store where you will be able to shop until you drop and purchase some merchandise exclusive to Disneyland® Paris. Marvel at exciting souvenirs, construct your own light-sabre or build away at the LEGO® store where you will find creative fun for all ages.
With plenty of restaurants and bars also available throughout Disney Village®, there will be tastes to suit everybody.
For the people on the go, grab a delicious hot sandwich at Earl of Sandwich® or if you are looking for a more substantial bite to eat, there are plenty of sit down options available.